Whack-a-Mole Parental Control
Have you tried setting up parental controls on your kid's devices? Was it easy? How long did it take? Would you know how to do it again?
Parental controls on most devices are broken and poorly designed. We've suffered from their complexity and inconsistencies from one device to the next. Something is terribly wrong with the awful neglect for this vital aspect of parenting in the digital world.
We sarcastically call this "Whack-a-Mole Parental Control" or WMPC for short. The idea that for each new device that pops up, parents are expected to hammer home appropriate settings for young users. Whack-a-Mole Parental Control has somehow become accepted as the "Best Practice" approach for parents in a digital world. It's time to put an end to WMPC and find a better way.
Kindera ends your struggle with Whack-a-Mole Parental Control
Kindera was invented by parents because the WMPC approach to protecting our kids presented unacceptable burdens on us all. Not everyone is technically savvy enough to manage the cumbersome procedures required for each and every device. And let's face it, a lot of our children ARE savvy enough to figure out how to defeat device level parental controls. Until now we were hopelessly ill-equipped to properly protect our kids in the digital world.
That's why we invented Kindera.
The Kindera WiFi Hub moves your parental controls to the one device in your home where it matters most: your WiFi router. We moved all of your rules to the edge of the Internet where they are shared by every device. The Kindera Home Service blankets your whole home with an all-in-one parental control solution. No need to touch each device individually since they must all talk to the Kindera WiFi Hub to get to the internet. It just makes sense that your rules should be managed at the network layer, and our Kindera Home Service makes it all possible today.
Today's Parents need 21st Century Tools to address 21st Century Problems
Kindera Home Service applies your rules across every one of your child's devices without needing to install software or change settings on those devices. Kindera Home Service works with all Internet enabled devices and will automatically apply your rules to new devices as they are added to your home.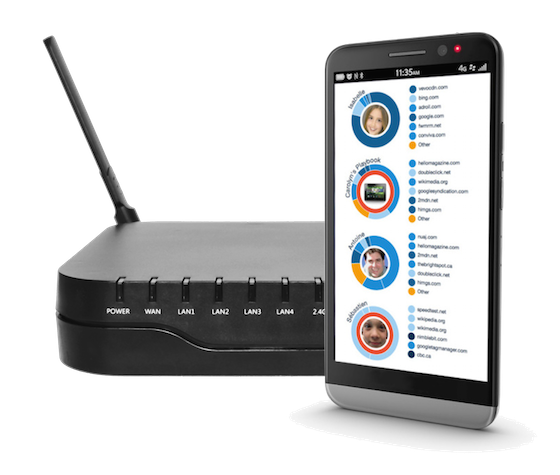 The Kindera Home Service was designed from the ground up with child safety and parent mobility in mind. The entire user interface for the Kindera Home Service is a web application that works in any browser including the ones on your smartphone. The UI is elegantly simple to use with only a single finger tapping away on the most logical actions your traffic patterns require.
We didn't stop there. We didn't just build a better Parental Control solution with Kindera. We also built a better WiFi router. The Kindera WiFi Hub is a significant upgrade to your existing home network. All the traffic routed through Kindera is blazing fast because of our brand new 802.11ac high speed WiFi processors. This gives you upto 3 times the bandwidth of your old 802.11n router. Kindera's 4 Port GigE Switch gives your wired ethernet devices a 10 times speed boost compared to old 100 Mbit connections.
We anticipated your future needs which means Kindera is already able to support 4K Streaming Video, WiFi enabled wearables, and any "Internet of Things" gadgets yet to be invented.
Are you ready to take back control of the Internet?